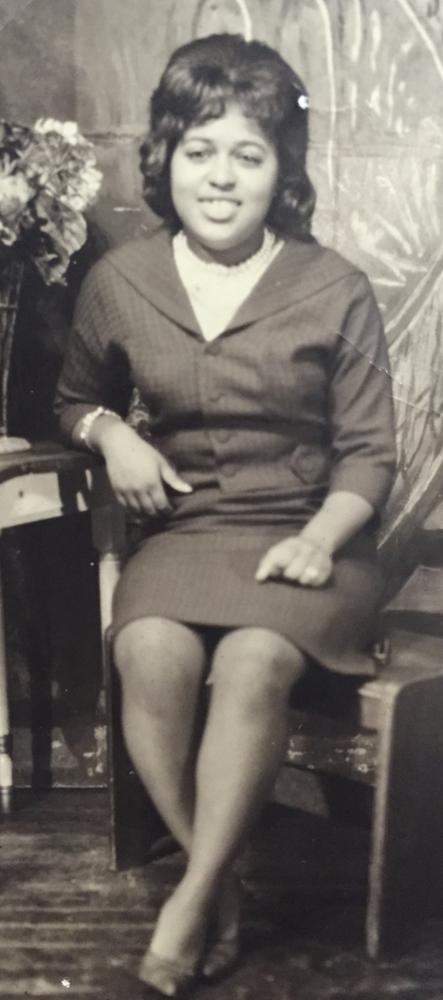 Obituary of Madeline Blanco
Madeline Blanco was born on March 21, 1943 to W. Anthony and Dorothy George. On Monday, March 10, 2016 our world changed. God heard and felt her pain and fear and accepted her into his Kingdom, while Carlos, her husband of 53 years was in awe of her beauty and strength and waited calmly. Madeline Blanco was a strong, loving, supportive, and humble woman. Her family and friends and friends of family known her for cooking. She was always welcoming and made sure there was enough food for everyone. She expressed her love to all through the meals she prepared. Madeline's first love was singing. She sang like an angel and it soothed the hearts of her loved ones. Madeline's mother would go to many night clubs with her when she was a young women and observed while she graced the stage in her beautiful dresses and performed for the audience. Madeline Blanco was dedicated to her family and strived for a better life for herself, set by example after graduating from Sara J Hale High School. She immediately began to work at the age of 17 years old at Kings Brook Jewish Hospital where she met and married the love her life, Carlos Blanco and retired after 42 years of service enjoying every day. She went back to college while working at Kings Brook Jewish and worked at another job part time to support her family. She was then blessed with two daughters, Carmen and Yorlanda Blanco and welcomed her step children, Valencia and Carlos Blanco into her heart. Preceding her in passing, was her parents, Dorothy and Anthony and her brother Earrol George. Madeline was a loving sister to Anthony, Norma, Earrol (deceased) and Donald George in addition to building a close unbreakable sisterly bond with Debra Tyson. She was a nurturing mother to Carmen, Yorlanda, Valencia and Carlos (deceased). She was a trustworthy loving mother and friend to her son in-law, Ulysses (deceased), Dwight Halstead and Chiron Bady. She was a super hero to her grandchildren that could do no wrong, Yemalicia, Delencio, Chi-la and Jeremiah. She embraced the love for her additional grandchildren, Ulysses Jr., Muhammad, Valencia, Carlita, Carleen, Carlos and had a special piece in her heart for her great granddaughter, Kaiyana Rosalee. She was the Auntie Matt to many nieces and nephews and was ecstatic to be blessed to welcome the new additions to the family, Alexia, Laylah and Zoe. Madeline was a lover of love and always had room in her heart and she will continue to love us all from the heavens above. Madeline Blanco will be missed by many but never forgotten in the hearts of her family and friends. Angel, Madeline.
To send flowers to the family or plant a tree in memory of Madeline Blanco, please visit Tribute Store
Visitation
12:00 pm - 4:00 pm
Saturday, March 26, 2016
Stoney Creek Cremation & Burial Society
3024 Quentin Road
Brooklyn, New York, United States
718-339-0700
Share Your Memory of
Madeline
About Us

Although primarily serving families of the five Boroughs of New York, Stoney Creek Cremation & Burial Society is ready and available to serve families throughout New York and the Tri State Area.
Our Location

Stoney Creek Cremation and Burial Society

3024 Quentin Road
Brooklyn, NY
11234

Tel: (718) 339-8900

News & Events

Check back regularly for local news & events!